Posts for: April, 2019
By Heitke & Vu LTD
April 18, 2019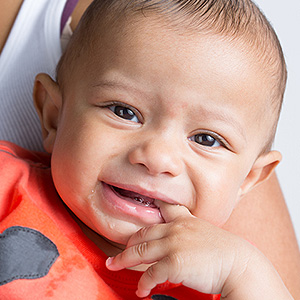 Although teething is a natural part of your baby's dental development, it can be quite uncomfortable for them—and upsetting to you. During teething, children can experience symptoms like pain, drooling or irritability.
Teething is the two or three-year process of intermittent episodes of the primary ("baby") teeth moving through the gums. These episodes are like storms that build up and then subside after a few days. Your aim as a parent is to help your baby get through the "stormiest" times with as little discomfort as possible. To that end you may have considered using over-the-counter products that temporarily numb irritated gums.
Some of those numbing products, however, contain a pain reliever called benzocaine. In recent years, this and similar ingredients have been found to increase the level of a protein called methemoglobin in the bloodstream. Too much methemoglobin can result in less oxygen delivered to body tissues, a condition known as methemoglobinemia.
This oxygen decrease can cause shortness of breath, fatigue or dizziness. In its severest form it could lead to seizures, coma or even death. Children and infants are at high risk for benzocaine-induced methemoglobinemia, which is why the U.S. Food and Drug Administration has banned marketing for benzocaine products as pain relievers for teething infants and children.
Fortunately, there are alternatives for helping your child weather teething episodes. A clean, chilled (not frozen) teething ring or pacifier, or a cold, wet washcloth can help numb gum pain. You can also massage their gums with a clean finger to help counteract the pressure exerted by an emerging tooth. Be sure, though, that you're not allowing anything in your child's mouth like lead-based paint that could be toxic. And under no circumstances should you use substances containing alcohol.
For severe pain, consult your physician about using a pain reliever like acetaminophen or ibuprofen, and the proper dosage for your child. With these tips you can help your child safely pass through a teething episode.
If you would like more information on helping your child cope with teething discomfort, please contact us or schedule an appointment for a consultation.
By Heitke & Vu LTD
April 08, 2019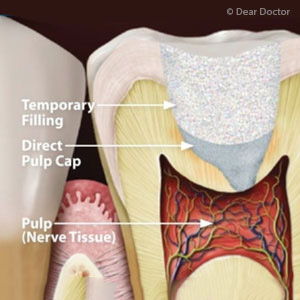 The sooner you get treated for tooth decay, the less likely you'll lose your tooth. That could mean a simple filling—or you might need a root canal treatment if decay has reached the inner pulp.
There's also another procedure for advanced decay called pulp capping. It's a bit more involved than filling a cavity but less so than a root canal. We can use it if decay has exposed or nearly exposed the pulp, but not yet infected it—otherwise, you may still need a root canal treatment to remove the diseased pulp tissue.
There are two types of pulp capping methods, direct and indirect. We use direct pulp capping if the pulp has been exposed by decay. After isolating the tooth to protect other teeth from contamination, we remove all of the decayed dentin up to the pulp. This may cause some bleeding, which we'll stop, and then clean and dry the tooth area.
We'll then apply a protective biocompatible material directly over the pulp to promote healing and protect it from further infection. We then restore the tooth's appearance and function with a life-like filling.
We use the indirect method, a two-part process separated by six to eight months, when the pulp tissue is close to the surface but not yet exposed. We initially remove the majority of decayed tooth structure, but leave some of it in place next to the pulp chamber. Although this remaining dentin is softened and decayed, we'll treat it with antibacterial chemicals, then cover it with a biocompatible material and a temporary filling.
Over the next several months the treated structure has a chance to re-mineralize as it heals. We then remove the temporary filling and assess the level of healing progress. If the regenerated dentin appears healthy, we can then remove any remaining decay and restore the teeth as we would after a direct pulp capping.
At the very least, pulp capping could buy your affected tooth time before a root canal will finally be needed. Under the right circumstances, it's an effective way to save an otherwise lost tooth.
If you would like more information on tooth decay treatments, please contact us or schedule an appointment for a consultation. You can also learn more about this topic by reading the Dear Doctor magazine article "Pulp Capping: A Procedure that may Save a Decayed Tooth."